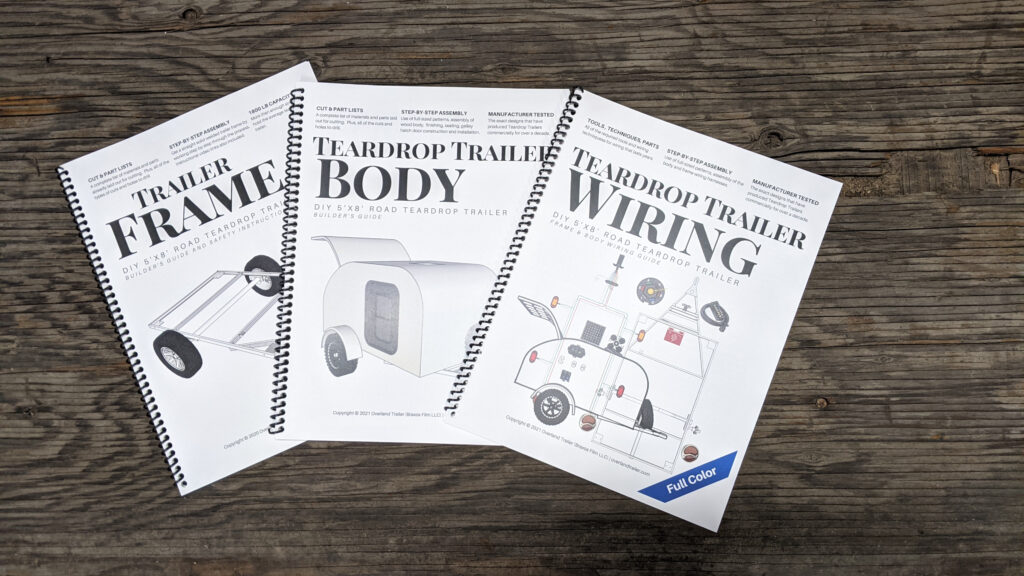 5' x 8' Teardrop Camp Trailer Plans Bundle
"We've made teardrop trailers since 2007 from our own refined manufacturer plans.  This is the first time we've taken our internal plans shared them with our DIY community.  
To make sure these plans translated well to a DIY builder's shop, we had some willing and brave teardrop trailer builders use them and give us feedback as we refined them. What you can purchase now is a great blend of the long experience of us at Overland Trailer and our DIY community of teardrop trailer builders."
-Mark (Founder)

Features of the Teardrop Trailer Plans
This bundle is ALL of our plans for making your own custom 5′ x 8′ Teardrop Camper.  From the first weld to wiping off the last fingerprint, it's all here. Included are video links to watch to watch each stage of a trailer being built.
Trailer Frame Plans – The best trailer is one that is made for a specific purpose.  This manual walks a builder through the entire process of cutting steel, drilling all of the holes needed for wiring and mounting the body, and finish options for a long-lasting frame.
Trailer Body Plans – This guide has all of the wood and metal cutting lists and diagrams, tool lists, parts, build techniques and upgrade options to build the body and galley hatch door of a teardrop trailer.
Full-Sized Teardrop Trailer Body Patterns – 5 feet by 22 feet of full-sized teardrop trailer patterns for cutting out many of the wood components and trailer skins.  Unlike other plans on the internet, there is NO need to print off a lot of pages from a PDF and tape them together.  The exact shapes and pieces that we've used in our manufactured trailers for years.
Teardrop Wiring Guide – This guide details what makes good long-lasting and headache-free wiring, wiring schematics for the trailer frame and body, upgrade options, and popular appliances for this size of a teardrop trailer (refrigerators, solar panels, etc).
How is this Plan Bundle Packaged and Shipped?
All of the plan books are packaged in a bubble mailer or box. (1 lb)
The Full-Sized Paper Patterns are rolled up and shipped in a 5″ x 5″ x 64″ box.