Getting a Teardrop Trailer Rental is a great way to decide if you like camping this way.  It is a low-cost but high adventure camping experience.
Renting a Teardrop Camper is also a great way to know what you do or do not want in your own teardrop trailer.  Make a list of those features that you want in your own DIY teardrop Trailer.
Note: These available rental listings are not directly provided by Overland Teardrop Trailer.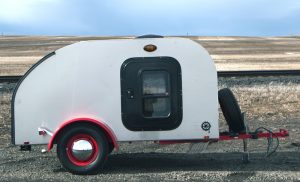 58 Heald - By Overland Trailer
The 58 Heald, made by Overland Trailer, is an aerodynamic, light, comfortable, vintage-looking camping option. Its interior queen size mattress and hand-built cabinetry assure relaxation on any camping trip.
Click "Book" To learn more about this rental.