The Anheuser Busch KampKar
The teardrop trailer is a product of simpler times.  Part of those times was the crazy camp vehicles that people created.  Thankfully, the classic teardrop has endured the test of time as a great reliable way to camp.  That is due, in part, to the clever designs of individual teardrop builders and to the ideas coming from corporations like Anheuser Busch.
Most camper's interest in Anheuser Busch may extend as far as a beer can.  But did you know that Busch made a camper?
I have no interest in Anheuser Busch until I saw an advertisement on Craigslist.  Someone is selling a 1921 Lampsteed KampKar that was made by Anheuser Busch about 6 miles from Overland Trailer.  Suddenly, I am interested and dug in to figure this early RV out.
Anheuser Busch Background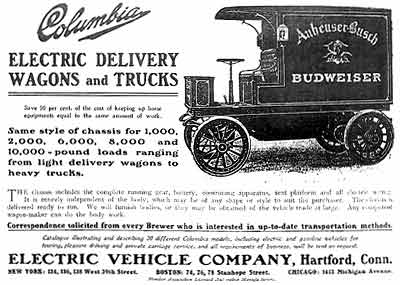 Anheuser Busch was a well-established brewer by the time they decided to make the KampKar.  In fact, the KampKar was one of their strategies for survival during a rough period in company history.
In the early 1900s, Anheuser Busch took a new approach to the delivery of beer to big cities.  They ordered three big trucks that could hold 30,000 pounds of brew.  Although a cutting-edge idea for the time, it didn't work out well for them as the trucks were too big to be practical.  Later they purchased a series of three and a half-ton electric trucks for delivery. Within 5 years their fleet had grown to 45 – 50 trucks.
The Pivot
In 1919, the business environment changes for brewers.  The people of the United States vote to make alcohol illegal.  Anheuser Busch earnings reports reflect the effect that this vote had on their business when it went into effect in 1922.
Anheuser-Busch historian, Ronald Jan Plavchan put it this way:
"Anheuser-Busch, which had never before failed to make a profit on its operations in any year for which records exist, showed substantial losses in 1919 ($2,478,985), 1920 ($1,572,255), 1921 ($1,329,072) and 1922 ($218,270)."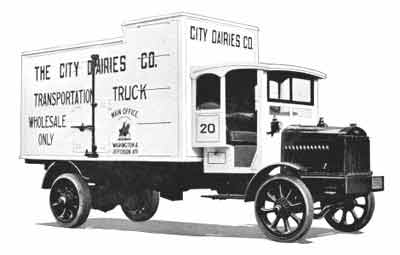 They needed a pivot in their business strategy to survive as a business.  Luckily, they had a good automotive division.  Through the years, they had developed their own department that was focused on retrofitting vehicles from Ford, Chevrolet, and others into freight vehicles.  So they leaned on that department to innovate new boxes for trucks.
It was in this time that they developed the refrigerated box truck and a non-refrigerated version for dry goods producers.  Vendors from everywhere purchased their vehicle additions.
Busch began selling ice cream, grape soda, and yeast because they had the means to keep it cool.  Their auto products also expanded into cedar strip cars shaped like boats and a vast variety of other unique designs (pictures below).  Their construction techniques are also common for the teardrop trailer builder and might get your mental juices going if you're a home builder!
The Lampsteed KampKar
In the 1920s it was in vogue to replace Cs in words with Ks.  There was the Kampcraft Kampster Teardrop Trailer is a great example of this trend (read more about the Kampcraft Kampster).
Samuel B Lambert joined Anheuser Busch and started developed new ideas to help keep the business profitable.  Samuel was the son of the treasurer of Lambert Pharmacal Co. – the company that produced Listerine.
Under his direction, Busch develops a CKD (completely knocked-down) kit that could be assembled onto the chassis of a Model T.  This kit converts the Model T into a motorhome.  The sides pop out and make two 42″ beds and the middle -bed of the Model T- is reserved for benches, eating, and storage.  All units were painted green.
A 1921 brochure advertised the Kampkar like this:
"Make this the kind of a vacation you've always dreamed about – enjoy the splendor of Yellowstone, the majesty of the Grand Canyon, visit balmy Palm Beach or the great North Woods.  Go anywhere you wish – on your own schedule, over your own railroad system in your own private car, stopping at your own hotel, eating your own cooking at your own table – all in great comfort and at a price, you can easily afford.
"The Lampsteed Kampkar Body, complete with full equipment and ready to mount on a standard model "T" Ford Chassis costs only $535.00 including war tax."
In an era when hotels were less common and independence was an expanding idea, this camper kit made sense and Busch began selling them.  It wasn't a smashing success but it was profitable.
Now
So there are only a few of these KampKars left in the world and six miles from us here at Overland Teardrop Trailer there is one for sale.  It is a goal of ours to get access to it to shoot photos and make a video for everyone to see.  When we do accomplish our goal, we'll let you know in another blog post and in our podcast.
Anheuser Busch still makes camping gear but nothing as elaborate as the KampKar.  We do like their mug though (see it here).
If you'd like to learn more about "Historic Camping and Teardrop Trailers", go watch my feature-length documentary for free!
Until Next Time,
Mark
Watch this post on YouTube: