Nothing earth shattering has happened to the chassis of the jPod in recent months.  It is essentially done.  However, after our adventure on the Lolo Motorway last summer, I have felt the need to put some shocks on the jPod.  It was nice to do a little metal work after all of the wood work for the body.  I think the word is "refreshing".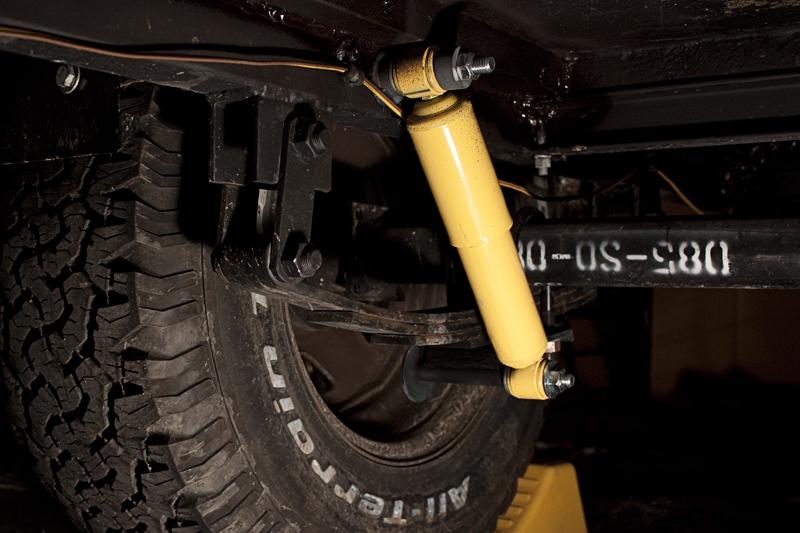 The axle and springs for the jPod are designed for a 3500 lb load while the jPod weights about 1/2 of that.  This means that if the jPod hits a bump just right, it wants to mimic an Olympic pole vaulter and take to the sky.  For a while, I removed one of the leafs in the spring and that has helped (we're at Olympic high jump levels now) but it is obvious that the jPod still has too much spunk for typical off road travel.  Note: I've never had problems pulling the jPod on paved roads.  It is only the overland travel which creates some jump.
I've read a great deal about the Monroe Trailer Retrofit Kit & finally decided to try it (see pictures below).  I am impressed with the simplicity of the design & ease of installation.  Here are the pros of this kit:
quick to install (about an hour)
Good directions & extra parts for customizing
Came with a template to help standardize where holes should be drilled in the frame (I didn't use it but for some it would be useful).
Easily replaces stock parts without having to realign the axle.
Smooth ride (ahhhhhhh) & calms the jump of the spring down.   It actually pulls & tracks better now too!
Here are the cons:
Back-ordered parts (apparently this popular system's production has slowed recently).
Drilling a hole through my frame.  As solid as the mountings are, I don't like drilling holes in my frame.  My hope was to keep the jPod frame sealed (in case of water crossings, etc).  I did put rubber gasket material in on either side & some silicone.  At some point, I may just weld the mounts in & quit sweating the water issue.
Overall, I'm very pleased with this system.  Good work Monroe! That is why you're the king of shocks.
Here are a few pics.  All of the photos can be seen on the updated Chassis page.