"
In the state of society in which we now find ourselves,
it is difficult to imagine a nation which lived
solely on bread and vegetables."
– Jean-Anthelme Brillat-Savarin (1755-1826)
About 10 years ago was the last time I ate food in France.  As much as people make a big deal out of French cooking & techniques, I thought I'd give it a try.  I was in Paris for the 4th time, and I determined to eat some high-end french food.   I remember two things about my culinary adventures in Paris that day.
1. I loved eating outside on a main street in Paris.
2. After my high-brow French meal, I got a lemon crepe from a street vendor and it (boom, splat, splat, splat) blew my mind.
10-years later, I don't remember the "amazing" French food I had at a trendy Parisian restaurant. Yet, a simple street-vendor's crepe is still something I occasionally dream about (seriously, I dream about it at night).  Maybe it was an off day for my taste-buds or maybe I am happy with any old food.  Maybe that's why I like camp food.
For the major french foodies out there, this may be a violating post to read.  My basic approach to these recipes is an attempt to answer one question.
"What if a french chef was forced to be a mid-1800s American cowboy?"
Yes, these are the thoughts that I have.  But seriously, this is camping not Paris, France.
One the Menu Today:
The first recipe I call the French Cowboy Cassoulet.  It is a classic french bean soup.  In fact, Cassoulet generally refers to a peasant dish made of beans.  This usually involves some sort of animal protein: beef, lamb, or duck but not always.  I'm choosing a lighter option by pairing this dish with a hearty dutch-oven-baked french bread.  If this doesn't work for you, it is simple to substitute or supplement with some roast beef, lamb shanks, or braised duck.
French Cowboy Cassoulet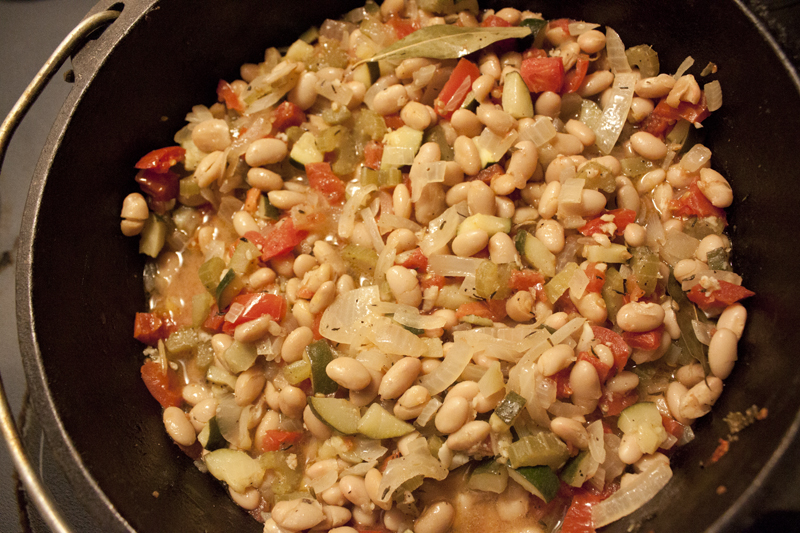 (10 inch dutch oven)
4 T olive oil
2 cup chopped carrots
1 Zucchini -cubed
1/2 white onion – chopped
2 cloves garlic
2 Tomatoes – diced
2 cans of White Beans
3 T chopped parsley
2 fresh thyme leaves
Salt & Pepper
In a cast iron pan, saute the carrots, zucchini, onion, garlic & 2 T  of the olive oil until the onions start to soften.  While the veggies are sauteing in the pan, preheat your dutch oven to 350 degrees.  When the DO and your veggies are sauteed, mix all ingredients together in the dutch oven with the remaining 2 T of olive oil.  Bake for 25-30 min.  Salt and Pepper to taste before serving over the Camp French Bread (recipe below) or the aforementioned animal proteins.
Camp French Bread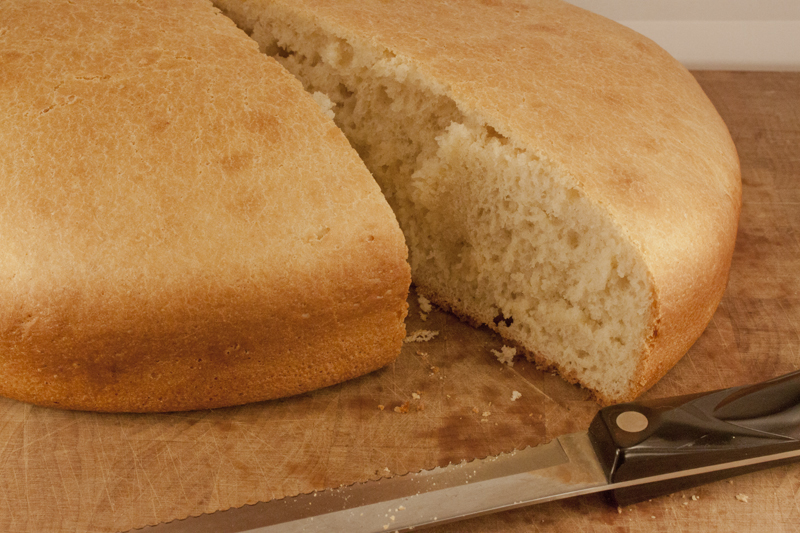 (10 inch dutch oven)
I like this recipe because it requires very few ingredients.  Thus, it is camper friendly!
1/4 C warm water
2 1/4 tsp of yeast
1 1/2 T sugar
1/4 C vegetable oil
1 1/2 tsp salt
1 C warm water
3 C flour
1 C additional flour (if needed)
Mix the  1/4 C warm water, 2 1/4 tsp of yeast, 1 1/2 T sugar and let sit to activate the yeast.
While the yeast is activating, mix the 1/4 C vegetable oil, 1 C of warm water, and the salt. Combine the two mixtures and mix well.  Slowly, add flour as you stir the liquids.  After 3 C of flour are added, you may want to add a little more flour.  The dough should be firm and not stick to your hands.
Pre-grease a 10 inch dutch oven with oil, vegetable or animal fat.  Place dough in a nice long loaf shape in the oven.  Let rise for 1 hour. After the dough has roughly doubled in size, bake at 400 degrees for 30-35 min.  Don't peak at it until at least 30 min have elapsed.
After baking, remove the bread from the dutch oven (it will have shrunk from the sides shouldn't stick at all).  Let the bread cool at least 20 min. before cutting (this is the hard part…patience).  Cut the bread and spoon the French Cowboy Cassoulet on top.  Eat with a fork.
*************
That's all there is to it.  Now you can camp and enjoy some faux french/cowboy cooking.  Your friends will love you for this recipe and may give you a nickname for it…
Pierre? – the name of a dehydrated Frenchman.
Feast your eyes on these photos!