"That's the thing with handmade items. They still have the person's mark on them, and when you hold them, you feel less alone." – Aimee Bender
In grade school, I remember having a pen pal in a foreign land (Germany? possibly…).  I remember being amazed at the personal touch I received from someone on the other side of the world through a simple hand-written letter.  I recently asked a friend of mine -who is a teacher- how her pen pal assignments were going.  She said "They were going well until the students all became Facebook friends with each other!  Then they started socializing more than helping each other with the homework we were giving them."  Did Facebook kill the pen pal?
As a geek, I don't think the pen pal is dead at all.  I think it is simply different and, in many ways, better because of the internet.
The internet surprises me occasionally.  Maybe it is because I come from a computer generation that was not yet an internet generation.  Isn't the internet amazing?  We can log on and watch live sports from the other side of our celestial body with a few movements of our fingers.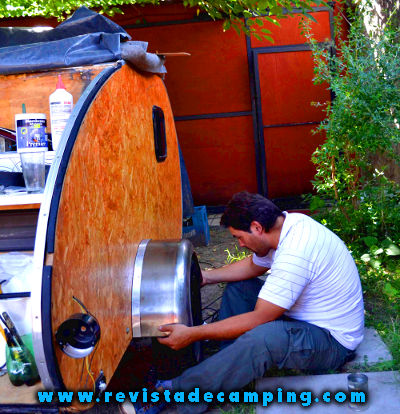 One of the ways I'm continually amazed is when I check my Overland Trailer email account.  I've answered teardrop build questions from people on all of earth's continents except Antarctica (anyone want to build a penguin pod? HA!).  There are clones of the Overland Prototype Teardrop in nine countries now.  These clones were made by people I've never met and yet, they were somehow inspired by the very teardrop trailer sitting in my garage.  Our interconnected world is amazing.  What tremendous opportunities we humans have in this part of earth's history.  It is so easy to become pen pals with anyone now.
Recently, a man named Eduardo contacted my from his camping enterprise & website SoloCampings in Argentina.  The site is host to a plethora of information concerning camping in Argentina.  In 30 min, I hadn't started to scratch the surface of the content of this site. The content on the site is muy bueno.
In addition to his business, Eduardo conveyed a rich passion for camping.  It is nice to know that the internet isn't the only thing that still connects human hearts!
Eduardo recently got an interview with an Argentinean couple (Melina and Daniel) and Revista de Camping & Outdoor magazine published it.  The interview tells their story of building their own Minirodante Hecha En Casa (Home Made Minirodante/minitrailer/Teardrop Trailer) and their first camping adventure.
As a history geek, I enjoyed reading that they made their trailer out of left-over materials and that a lot of their parts were hand crafted.  There is mention of a blacksmith!!  The DIY theme for teardrop campers lives on in yet another country.  Their trailer is beautiful.  I find it necessary to particularly complement their choice of tail light.  It is a very similar design to the ones we use on our 58 Heald Teardrops here at Overland Trailer.  A great choice indeed.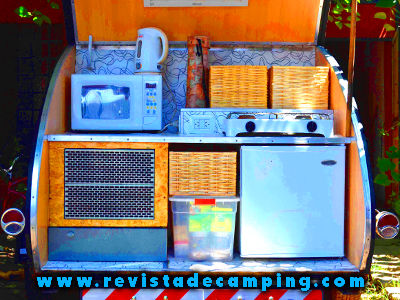 After reading about Daniel and Melina's build, I found SoloCampings on Facebook and became a fan (Link Below).  Most of the page concerns tent camping.  However, it is a great way to see the scenery, bathroom practices, and grilled camp food of Argentina.
At the end of the day, I have a new pen pal.  His name is Eduardo.  He and I share a passion for camping & Teardrop Trailers/minirodante.
Thank-you Eduardo for sharing your passion with Overland Trailer and our hemisphere.  If we're ever in Argentina, we'll take you up on your offer of an asado (barbecue)!
Until next time campers,
-Mark
"Minirodante Hecha En Casa" on Revista de Camping & Outdoor magazine
 SoloCampings Website (Spanish)
SoloCampings Website (English)