Selling Your Camping Gear, large RV, or teardrop trailer fast is an art.  Knowing how to price, what to write in the copy, and what photos to shoot for Craigslist or Facebook can be challenging.  In this post, I'll share my tips to help you sell your gear fast.  Plus, I'll use real Craigslist and Facebook Ads to illustrate the good and the bad.  And they're hilarious!
Trust
It goes without saying that any transaction is based on trust.  If I were to buy a tent from you, you'd trust that my money is not counterfeit and I'd trust that the tent was in the condition that you advertised.
No Cover-Ups
When a shopper is looking through advertisements for used camping gear or an RV online, they like to have all of the information upfront.  For example, if I find a motorhome without mileage listed that pretty much guarantees that the mileage is high.  By not listing it, I lose trust in the seller.  If the information is left out, then you -as the seller- could end up fielding a lot of communication asking clarifying questions that is a waste of time for both you and a potential buyer.  Here are the most important things to disclose:
Mileage – Give actual mileage of the RV that you're selling.  Of course, this is only relevant if it has a motor.  With teardrops, I always list tire condition and display a picture of the tread.  This is an ok way of demonstrating the mileage on the trailer.  Another important metric is to offer the number of sets of tires the trailer has been through.  These give a potential buyer a sense of how many miles the teardrop has on it.
Slideouts – If the RV has Slideouts – describe their condition.  Slideouts are notorious for leaking, jamming, and having a number of other problems.  It is easier to sell an RV with slideouts but if yours doesn't have them, be sure to acknowledge it.  Some people like an RV without them.  They're lighter and there are fewer things that can go wrong or require maintenance.
There are teardrops with slideouts.  The most important factor with those is how heavy the overall trailer is – in addition to its functionality.
Age – Give the manufacture date.  If it is from 1983, list it as 1983.  Some buyers will only seek out the older RVs or camping gear because it is older.  If you have made a homemade teardrop trailer or other RV, list the date from the VIN number or first licensing.  That would be a verifiable record of when it was first in use.
Real Example (No Date Listed! and NOT a Teardrop Trailer):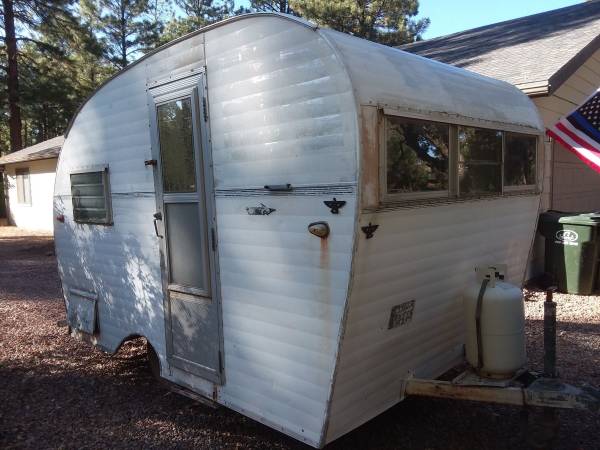 "Super rare hard to find Trotwood Tear Drop travel trailer. 13′ tip to tail. Needs full restore but great bones to start with. No title, bill of sale only. Most of these oldies come that way. Easy to apply for bonded title. $1200 firm. Do your homework, you will find the price is more than fair."
Photography
There is nothing that will kill traffic to an ad faster than poor or no photography.  Take a little time to get it right.  Here are some tips to add killer photos to help you sell your camping gear fast.
Consistency – Try to get the object in the frame at the same place all the way around.  Keep it at the same level so that every photo looks consistent.
ACTUAL photos – an ad that has photos from a magazine and not the actual item doesn't help build trust with the buyer.  Take the time to show the buyer what they're actually looking to buy.  This is especially important if it is older.
Damage – In addition to describing the damage that the camping gear may have, shoot a photo of it to let the buyer know exactly what they're in for.
Positives – Shoot photos of the great parts of the item.  These are good selling points.
Example (NOT ACTUAL PHOTOS!!!):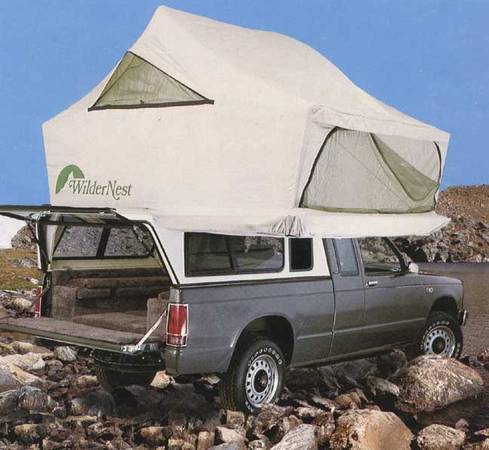 "This is a 25 year old Wildernest Camper shell. When not being used it is stored on a cradle inside a garage so it is in pretty good condition. It fit my 87 Dakota mid sized truck that had an 8 foot bed. The outside edge to edge dimension is 62 1/2″ and the outside front to back dimension is 98″ I also have custom wooden box/benches that I built to fit in the truck bed. The images are not my Wildernest but they are what mine looks like."
Writing Copy for Used Camping Gear or RV
Your written description of the camping gear or RV can affect how quickly the item is sold.  Here are some tips to help you sell fast:
The Unknown – Try to discover as much as possible about the item in question.  If you don't know if something works on your piece of gear or teardrop, test it so that you can inform the customer.
Detail – Don't bury the buyer in details.  Make bullet points and list the important facts.
Does this Affect Price – If normal wear and tear won't affect the price, don't list it. A buyer is expecting a used teardrop or RV.  By doing this, it removes the possibility of a buyer using this information as a way of getting a lower price for something that is normal and to be expected.
Positives – List all of the great things about your use camping gear or teardrop.  List this after the problems to leave your advert on a positive note.
Humor – Humor gives your ad personality but use it carefully.  Be sure your humor doesn't alienate a group of buyers.  You want as many people as possible to look at your listing.
A borderline Example:
"She is old but she is in great shape no leaks everything works as it should -Just like my wife. Comes with two full propane tanks (full of gas just like my wife). I thought I would have used it more but unfortunately, I didn't (just like my x wife). Has like new tires. The only thing is the trailer lights don't work I have been using temporarily magnetic trailer lights to be legal for traveling. Would be great for a hunting shack to stay warm (when your wife kicks you out of the house for the night- I should know). Have any questions please call Jeremy"
An EPIC Example:
"Behold, the palace of yesteryear! Oh, if these flimsy aluminum walls could talk…
What we have here is a very special piece of camping nostalgia. Do you remember when John Travolta and Saturday Night Fever rocked the disco world with its flashy tight leisure suits and poppy, cocaine-induced dance music in 1977? Well, this camper doesn't because it wasn't born until 1978. Ah, what a fine year for outdoor recreational equipment. With Vietnam still fresh in the minds of the American public, the reputable brand of Freeway decided to rock the camping world with this astronomically astonishing piece of engendering brilliance.
This all-metal fortress comes with all the bells and whistles available. Do you remember your grandmas white couch with tiny delicate daisies embroidered in the fabric, covered ever so lovingly in clear plastic, that no one was allowed to sit on just in case the pope showed up one day and needed a vacuum sealed sofa to fart on without worry that it was contaminated by you or your sisters sticky fingerprints? Well, that's the same fabric the curtains are made out of! Only these have been dyed murky brown by years of cigarette smoke and spilled bong water.
and now we move on to the food preparation wing of the camper. The stove, which comes equipped with not one but two non functional burners, has been fully broken in by years of toothless, cousin loving hillbillies cooking meth for weeks at a time, stopping only to run to the local stop and rob for Budweiser and pall malls or to fart out another inbred, cross-eyed future NASCAR fan from their womb.
The food preparation wing comes with literally inches of room, allowing the owner to spread nearly one carrot out on the cutting surface if they move their beer first.
The master bedroom comes standard with a twin mattress, big enough for the whole family, resting comfortably on a corrugated aluminum box spring. the Mattress is based off a Japanese style
Mattress… From Okinawa's prison camp in 1945. Stuffed ever so elegantly with only the finest of used cotton balls and lawn clippings, the mattress will support any person of any stature. Have you ever had the dream where you are falling, only to wake up and realize you're still in bed? Well, that can literally happen to you in this camper! Why not go to sleep with the excitement of near certain death when just the slightest breeze can topple the camper over and send you careening face first into the splintery plywood roof!
For the bathroom, there is a door that leads you outside. This door believes in the power of free will, much like the philosopher Alexander Rosenberg. If you feel the pressures of digestion weighing heavily upon you, open the door and relieve yourself wherever you feel!
Some may say that a slide in camper can cut down on the top speed of your vehicle. Well, my stupid friend, you are in luck! I have personally and professionally modified this camper to fix that issue! In the Starboard side of this road worthy vessel, I have placed in it several speed holes. They are approximately the size of a .223 56 grain bullet and add an astonishing amount of aerodynamics! You may even increase your gas mileage by placing this in the back of your pickup!
Now, after reading this, you might say this camper may quite possibly be worth billions of dollars!! Alas, you may be right, but you won't see that price anywhere on it. I have slashed the price to a mere fifty million dollars!!! I am willing to take as little as two hundred dollars, though, or anywhere in between.
The camper currently sits at the far end of our ranch on the mountains, currently being cryogenically frozen and preserved by the Montana winter to ensure it's freshness. By appointment, I am willing to take you on a guided tour of this marvelous metal sculpture. Please inquire via email. Thank you and may the force be with you."
++++++++++
Until Next Time,
Mark
Watch this Podcast on YouTube: